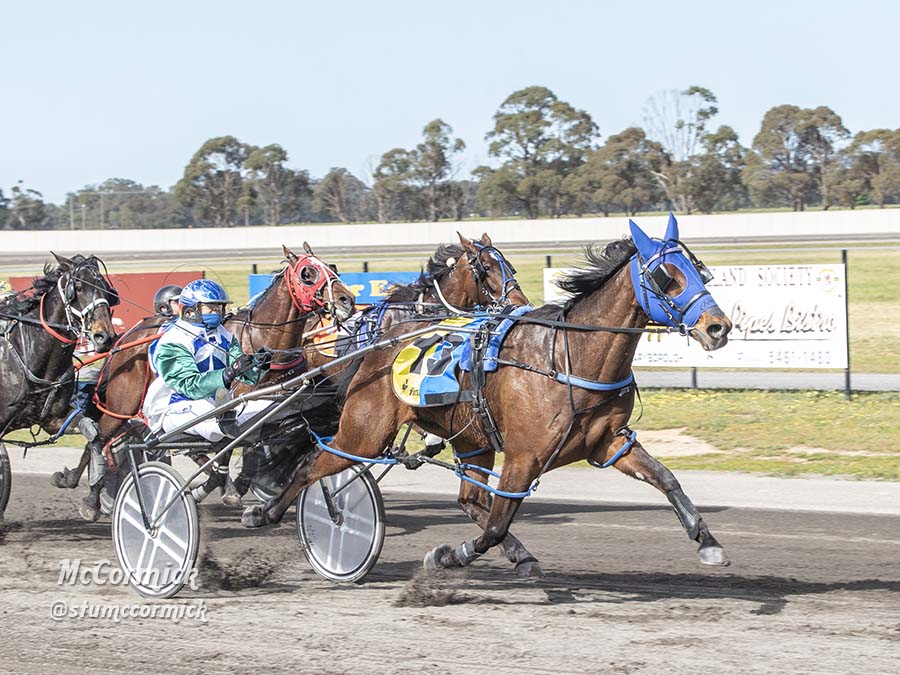 There was great reward for patience and perseverance on Humbletonian Day at Maryborough, when 10 horses broke their maiden status including seven-year-old Aussiepride.
The Harness Breeders Victoria Vicbred Maiden Pace proved a magical occasion for trainer Basil Dooley and owner-driver Paula Martin, who purchased the Watch The Aces gelding at Echuca sales.
"He was a little weanling and we've had him for a very long time," Martin told Trots Vision after the breakthrough win.
Today marked his 12th race start, a modest number for a seven-year-old that reflected that he'd been something of a handful.
"He's a very tricky horse, you've got to get him right and Basil's done a good job calming him," Martin said.
"He always had ability, but he's done a lot of things wrong. He's calmed down now and it's taken seven years to get him here."
FACEBOOK: CLICK HERE TO VIEW HARNESS BREEDERS VICTORIA'S HUMBLETONIAN PHOTO GALLERY
He certainly showed that ability today, with plenty of moves throughout the middle-distance pace that saw some tiring in the run and forced Martin to go four-wide a long way from home to try and make ground on the first three, who had separated from the field.
While all the front runners were out on their feet, Aussiepride savaged the line to win by 6.2 metres from Valley Of Terror and Awesome Reactor.
"I had to get around those horses, otherwise I would have still been carted back. Once I got around them I thought I could get near the running line and then he just kept going and they were all stopping in front of him," Martin said.
"He felt really good, even going four-wide around those horses, he just felt like he had a burst of energy in him. Coming around the turn I was still holding him and thinking, yeah, he's got this."
It was a highlight amid a great day's racing at Maryborough.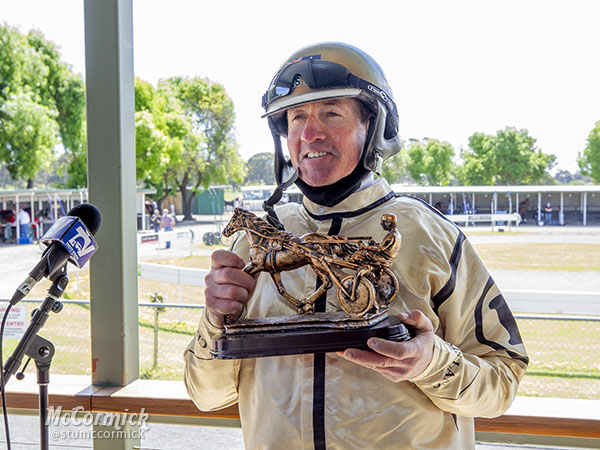 Bullion Harry kicked off proceedings with a late swooping run to win the two-year-old trot for trainer-driver Chris Lang.
The Muscle Hill gelding out of Miss Bullion was bred and is owned by Richard and Pauline Matthews and would only get better, according to Lang.
"He's a horse of the future," he told Trots Vision. "He's got a fair bit of bottom and I think you'll see his best work as a three-year-old, not as a two-year-old."
Bullion Harry will back up at Tabcorp Park Melton in Saturday night's Aldebaran Park Vicbred Platinum Home Grown Classic final, a $50,000 Group 1 that could make it a very lucrative week for connections.
"If he can win again on Saturday night in the Home Grown final, which he's in, that'd be lovely, but it's probably a little bit beyond him at this time," Lang said.
In race two Kylie Sugars was rapt after Euryphaessa broke through for her maiden win, a two-year-old filly who Sugars not only co-owns with Jamie Braidwood and Barry Lay but also bred, trains and of course drove.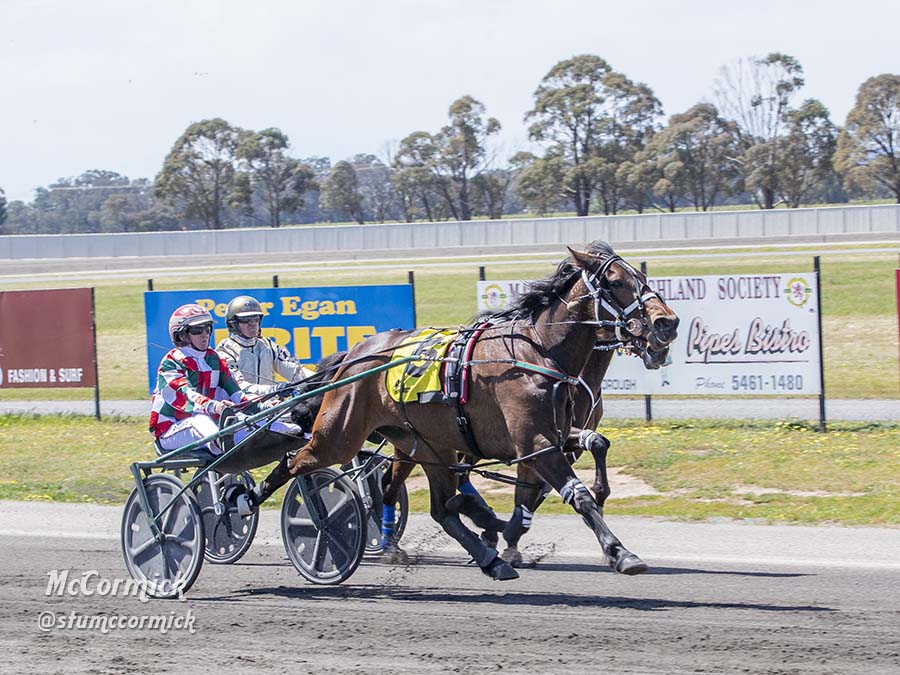 Sugars told Trots Vision the Majestic Son filly out of Indie Pepperell had been a handful on occasion but was showing great signs in the lead-up to today's breakthrough maiden win.
"She's always shown ability, right from day one as a yearling to now," Sugars said. "We had issues to get her to trot and do things right and then she'd get to trials and get it all wrong.
"It's just been repetition, repetition – turning her out, giving her a break when she's had enough, then bringing her in and doing a little bit more. In and out, in and out and each time she's gotten better and better."
Owner-trainer Kim Procter and reinsman John Justice teamed to win the three-year-old trot, race three on the program, with Abitofadreamer.
The three-year-old Orlando Vici gelding out of My Dreamweaver was bred by Yabby Dam Racing and ran on while four-wide to score by four metres.
There were more happy owners when Credit To Chris, a Crazed gelding out of Calixte, won the maiden trot for trainer Keith Cotchin and reinsman Ryan Duffy.
The four-year-old led all the way to score for owners breeders Kobie, Sharon and Jake Mallia, Bill Burns and James Rattray.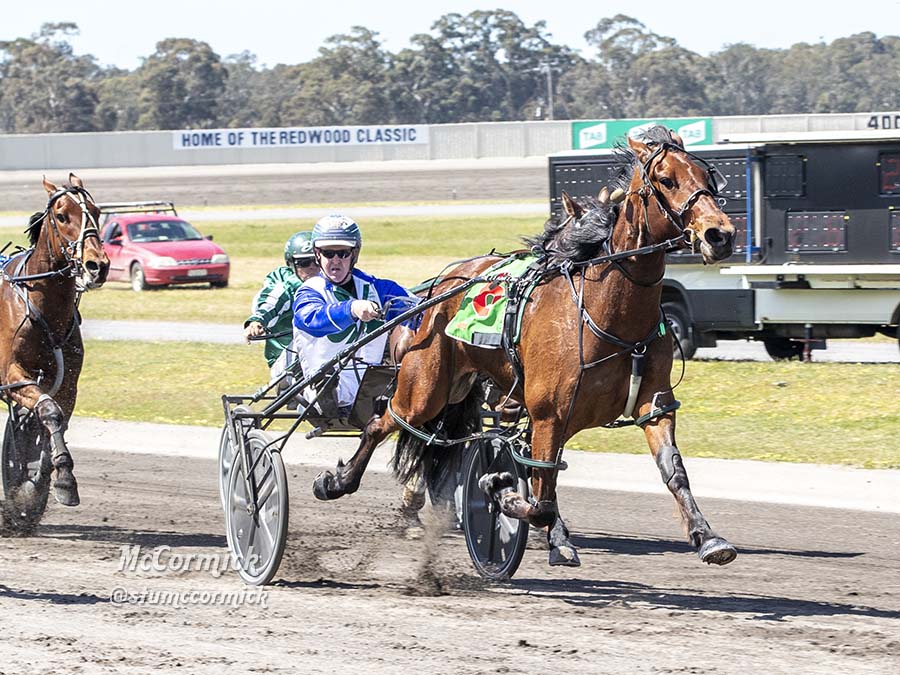 The biggest price winner of the day came in the fifth when three-year-old Triple Zed scored for trainer-driver David Murphy at $57 on the tote.
Owned and bred by Alan Faux, the Four Starzzz Shark three-year-old is out of Spirit Of Smooch and emerged from leader's back to win by 2.2 metres.
Shesa Pocketrocket made happy owners of Neale Donnelly, John Monahan, Ruth Risstrom and Carol Bass when she saluted for trainer Andy Gath and reinswoman Kate Gath.
Bred by Jessica Francis, the Art Major three-year-old is out of Its Girl Power and found the front from the gate and held off all challenges.
It was a similar win for Mick Stanley's Soho Broadway, who is the latest eye-catcher from owner-breeder Rob Watson's outstanding mare Pixel Perfect.
Soho Broadway, by Bettors Delight, broke through for his first win at start five when he held off Blaze Coops to salute by a half-neck, with less than five metres separating the first seven finishers.
There was also some more winning to be done by trainer-driver Matt Craven, fresh from his Saturday night Group 1 success with Pink Galahs.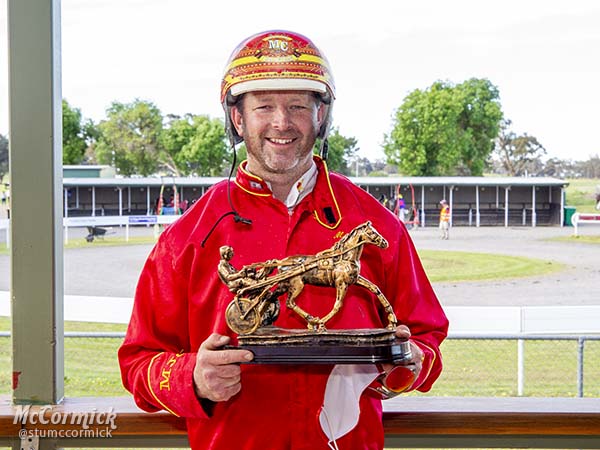 He took out the three-year-old trot with Queen Of Crime, with the pacing-bred Sportswriter filly out of Our Crime Of Passion getting the job done for owner-breeders Tony and Pam Coniglio in a comprehensive 31-metre win.
And finally Helansin joined the list of first-time winners when the Somebeachsomewhere gelding out of Eye Like Candy took out the two-year-old pace.
Trainer by Alison Alford and driven by Chris Alford, the winner scored for a big group of owners that included late reinsman Gavin Lang's wife Megan, with Chris Alford telling Trots Vision viewers post-race he believed the gelding was Gavin's last purchase, making the win all the more significant.
Helansin was bred by Glenn Taylor, Judith Eden, Russell Eden and Christine Taylor.